Who is Robert Drysdale?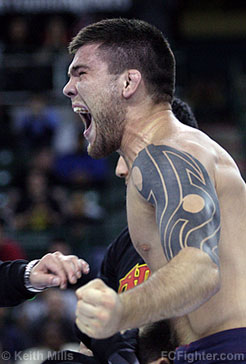 Robert Drysdale was born in Provo on the State of Utah, USA in 1981. He moved with his family to Brazil when he was just 6 years old, and began training Jiu Jitsu well in his teens (he was 17) at the "Quatro Tempos" Academy on the city of "Itú" State of Sao Paulo, Brazil.
He was still a white belt when he had to move back to the US to pursue his academic studies at a University in Las Vegas. Having fallen in love with BJJ, he looked up for a Jiu Jitsu academy and ended up training with instructor Steve da Silva. Steve was the first teacher to really believe in Drysdale's potential. With his instructors encouragement Robert decided then to move back to Brazil were the sport was more professionalized.
The year was 2000 and Robert Drysdale packed his bags and moved to Indaiatuba in Brazil. He first started training at the "Maromba" academy with Professor Paulo Streckert. In the "Maromba" Academy, Drysdale fully dedicated himself to BJJ and competition. With his full atention in the sport he started picking up the benefits of his hard work, achieving many podiums and earning himself a World Title in the Purple Belt Division, and receiving his Brown Belt.
He then met and befriended Demian Maia who invited him to go and train at the mighty Brasa academy, then led by the former Alliance stars who had formed this new academy. After Robert received a "beating" in training by Leonardo Vieira, he decided this should be the place to train. He asked his master Paulo Streckert and they both agreed it was a wise choice, and so began Robert Drysdale association with the Brasa Team.
Possibly the most accomplished American Grappler of his generation, Robert Drysdale is a black belt in Brazilian Jiu Jitsu, a rank he earned training with the legendary coach Leonardo Vieira. Robert Drysdale is the 2nd American to win an IBJJF World Championship (2005), later going on to win the ADCC (2007) in the open weight category. Robert Drysdale also competed in mixed martial arts (MMA) reaching the pinnacle of the sport, the UFC. By the end of 2013 Drysdale joined forces with Rodrigo Cavaca to form a new grappling team – Zenith BJJ.